Hardware
Description
insigh.io board is a generic and affordable hardware device, designed for accelerating IoT adoption:
Its integrated functionality allows for rapid deployment, enhanced telemetry and cost-effective maintenance.
It is equally capable of being used as a development board or for implementing small PoCs and then scale to deployments counting hundreds of nodes.
It is super flexible as it can be used both by experts and the general public:

When used as a development board by experts, an extendable open-source Micropython firmware is available for quick prototyping.
When used as an end board by non-experts, it can be deployed with minimum prior know-how and configured with the help of an intuitive application.

It is perfectly suited for outdoor or indoor operation, as it can be easily enclosed to an IP-rated box and supplied by various energy sources.
It follows a modular architecture:
A main board embedding the core functionalities out of the box:

Low-power processing
Power supply with automatic management
WiFi & Cellular connectivity with data provisioning
GPS support for outdoor localization
On-board diagnostic sensors and functionalities
Ports for connecting LiPo battery, solar panel, and USB power/data cable.
Debugging port through standard Serial or USB cable

A set of "add-on" boards attached to the main board for:

Supporting multiple popular analogue and digital sensor interfaces: analogue voltage/current readings, digital (e.g. pulse) readings, I²C, SDI-12, 4-20mA
Hosting various sensors with built-in firmware support: soil moisture sensors, temperature/humidity probes, load cells, CO2 sensors, accelerometers/magnetometers.
Implementing different IoT applications: smart agriculture, environmental monitoring, precision apiculture, rewarding recycling, air-quality inspection, road hazard detection
Expanding connectivity options: LoRaWAN and Satellite IoT
Adding specialized features: hardware watchdog, hardware security, energy consumption profiling
Adding your own functionalities and applications: everything
Specifications
Main Board
This is the "heart" of the hardware offering. Based on the main board, we or you can build a complete hardware solution that perfectly fits any case. It exposes 30 input/output pins -power/analogue/digital for supplying and controlling external devices- allowing for implementing different breadboard configurations or attaching our ready-made add-on boards. For more details about the technical specifications of the main board refer to page Main Board with exposed pins.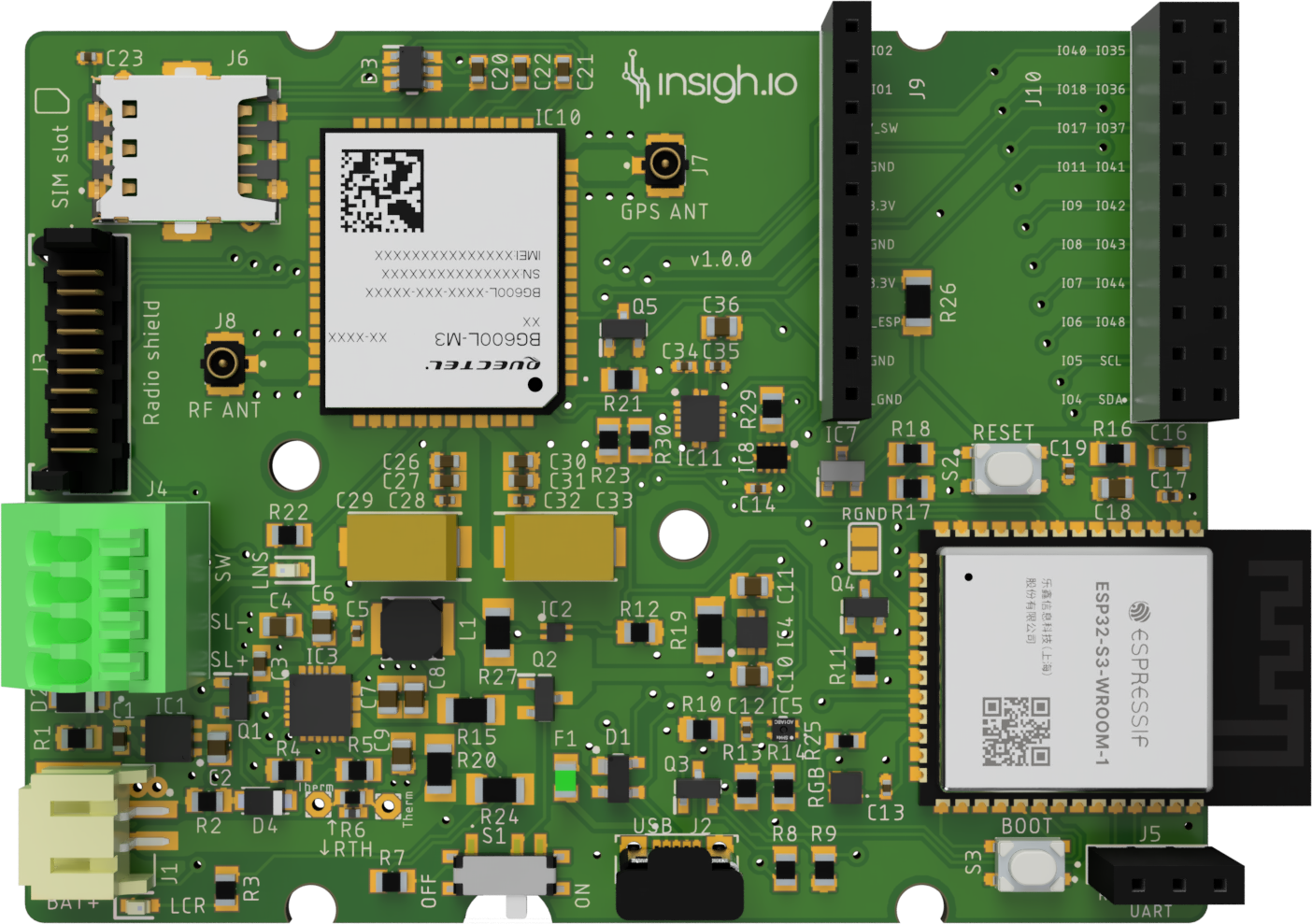 Shield Boards
This is a collection of standard "ready-made" IoT application boards which can be used out-of-the-box and communicate with popular sensors and widely applicable interfaces. Sensors can be connected using push-in headers (no tools required). The current list includes sensor and radio boards:
Sensor Boards
Radio Boards
Custom Designs
There is a series of older hardware designs used by our Clients that may worth check as well (not recommended for new users):
The existing boards are highly configurable and expandable so if the existing boards do not fit your need, get in contact with us and we will tailor a solution for you with your customizations.